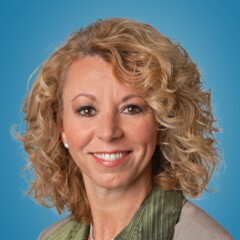 Lisa Jones
Head of the Americas, President and Chief Executive Officer of Amundi US, Inc.
Lisa M. Jones is Head of the Americas, President and Chief Executive Officer of Amundi US, Inc., the U.S. Division of Amundi Asset Management. She is Trustee of the Pioneer Funds, and President and Chief Executive Officer of the Pioneer Funds. Lisa is also President of  Amundi Distributor US, Inc. She is head of the US Executive Committee and US Management Committee, and a member of the Global Executive Committee.
She has over 30 years of experience in global financial services developing and building asset management businesses. In 2016 and 2020, Lisa received the Top Women in Asset Management Award from Money Management Executive.
Prior to joining Amundi US, Lisa was Global Head of Distribution at Morgan Stanley Investment Management (MSIM) and President of MSIM Distribution Inc. In this role, she oversaw all MSIM distribution channels globally, including retail and institutional. Prior to that, Lisa was Head of the Global Institutional Division at Eaton Vance Management. She also spent more than 16 years at MFS Investment Management in leadership roles across both retail and institutional divisions. She began her career at E.F. Hutton & Co. in New York.
Lisa is a member of the Board of Governors of the Investment Company Institute, a member of the MIT Sloan Finance Group Advisory Board at MIT Sloan School of Management and a member of the Board of Directors of Clearwater Analytics. Lisa has served on other boards such as the Foreign Policy Association in New York, the Advisory Board of the Institutional Investor Institute and the Board of Fellows at Trinity College in Hartford, CT. She is also a former trustee at the Pingree School Board of Trustees in South Hamilton, MA. She has a B.A. in Economics from Trinity College.
About Amundi US
Amundi US is the US business of Amundi, Europe's largest asset manager by assets under management and ranked among the ten largest globally1. Boston is one of Amundi's six main global investment hubs2 and offers a broad range of fixed-income, equity, and multi-asset investment solutions in close partnership with wealth management firms, distribution platforms, and institutional investors across the Americas, Europe, and Asia-Pacific.
With our financial and extra-financial research capabilities and long-standing commitment to responsible investment, Amundi is a key player in the asset management landscape. Amundi clients benefit from the expertise and advice of 5,4003 team members and market professionals in 35 countries3. A subsidiary of the Crédit Agricole group and listed on the Paris stock exchange, Amundi currently manages approximately $1.904 trillion of assets3.
Amundi, a Trusted Partner, working every day in the interest of our clients and society
www.amundi.com/us
Follow us on linkedin.com/company/amundi-us/ and twitter.com/amundi_us.
1Source: IPE "Top 500 Asset Managers" published in June 2022, based on assets under management as of 12/31/2021
2Boston, Dublin, London, Milan, Paris, and Tokyo
3 Amundi data as of 12/31/22