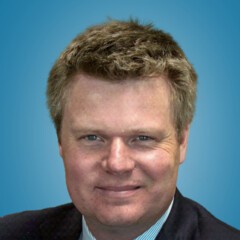 Jonathan M Duensing
Jon Duensing, CFA, is Senior Managing Director, Head of Fixed Income, US, Director of Multi-Sector Fixed Income, and Portfolio Manager. He supervises all fixed income portfolio management and research activities for Amundi US, and leads a team of approximately 50 investment professionals who manage a wide range of US and global fixed income portfolios for institutional and retail clients worldwide. He is also a member of portfolio management teams responsible for managing stand-alone high-grade credit, multi-sector credit, and cross-over fixed income strategies. He is a member of the US Investment Committee, US Executive Committee and US Management Committee. He reports to Ken
Taubes, Chief Investment Officer, US. 
Prior to his position as Head of Fixed Income, US, and Director of Multi-Sector Fixed Income, Jon was most recently Director of Investment Grade Corporates and Senior Portfolio Manager. In that role, Jon led a team of investment professionals responsible for managing high-grade and crossover corporate credit exposure across all fixed income portfolios at Amundi US. He was responsible for managing stand-alone high-grade credit, multi-sector credit and cross-over fixed income and absolute return strategies.
Jon joined Amundi US (Smith Breeden Associates) in 1996 as Investment Analyst, and became a Portfolio Manager for Multi-Sector and  Corporate Credit Strategies in 2000. In 2006, he was named Principal and Senior Portfolio Manager, adding an Absolute Return strategy to his PM role, as well as personnel management responsibilities. He also served as Deputy Chief Investment Officer from 2014-2017.
Prior to joining Amundi US in 1996, Jon was the Credit Officer for a member bank of Old National Bancorp. 
He holds a Bachelor of Arts in Finance from the University of Illinois, Urbana-Champaign, graduating with distinction and departmental honors. He became a CFA® charterholder in 1999.
Experience
HEAD OF FIXED INCOME, US, DIRECTOR OF MULTI-SECTOR FIXED INCOME, PORTFOLIO MANAGER
About Amundi US
Amundi US is the US business of Amundi, Europe's largest asset manager by assets under management and ranked among the ten largest globally1. Boston is one of Amundi's six main global investment hubs2 and offers a broad range of fixed-income, equity, and multi-asset investment solutions in close partnership with wealth management firms, distribution platforms, and institutional investors across the Americas, Europe, and Asia-Pacific.
With our financial and extra-financial research capabilities and long-standing commitment to responsible investment, Amundi is a key player in the asset management landscape. Amundi clients benefit from the expertise and advice of 5,4003 team members and market professionals in 35 countries3. A subsidiary of the Crédit Agricole group and listed on the Paris stock exchange, Amundi currently manages approximately $1.904 trillion of assets3.
Amundi, a Trusted Partner, working every day in the interest of our clients and society
www.amundi.com/us
Follow us on linkedin.com/company/amundi-us/ and twitter.com/amundi_us.
1Source: IPE "Top 500 Asset Managers" published in June 2022, based on assets under management as of 12/31/2021
2Boston, Dublin, London, Milan, Paris, and Tokyo
3 Amundi data as of 12/31/22