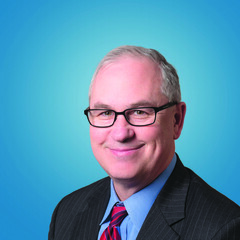 Geoff Smith
Geoffrey Smith is Director of Corporate Communications at Amundi Pioneer. Based in Boston, he is responsible for media relations, employee communications, advertising, crisis communications, and the charitable giving program for Amundi Pioneer. Prior to joining Amundi Pioneer in 2005, he was a Senior Consultant at Compton Consulting Group, Inc., specializing in strategic public relations and crisis communications for asset management firms. His clients included Franklin Templeton Institutional, Morgan Stanley Investment Management, Babson Capital Management, Darby Overseas (private equity) and Affiliated Managers Group (NYSE: AMG). Prior to entering public relations in 2003 he served for 12 years as an award-winning reporter for BusinessWeek magazine covering the financial services industry, personal finance, financial regulations, and New England businesses, including the biotech and defense industries. He is a winner or co-winner of national journalism awards including the Gerald Loeb Award for Best Magazine Reporting (Finalist); Deadline Club Award Best Magazine Reporting and the Investment Company Institute Education Foundation Award for Excellence in Personal Finance Reporting. Prior to BusinessWeek, he was a reporter and assistant business editor at the Boston Herald, and business reporter at the Lowell (Mass.) Sun. He has a B.A. with honors from Earlham College and an M.S.J. from Northwestern University's Medill School of Journalism.
About Amundi US
Amundi US is the US business of Amundi, Europe's largest asset manager by assets under management and ranked among the ten largest globally1. Boston is one of Amundi's six main global investment hubs2 and offers a broad range of fixed-income, equity, and multi-asset investment solutions in close partnership with wealth management firms, distribution platforms, and institutional investors across the Americas, Europe, and Asia-Pacific.
With our financial and extra-financial research capabilities and long-standing commitment to responsible investment, Amundi is a key player in the asset management landscape. Amundi clients benefit from the expertise and advice of 5,4003 team members and market professionals in 35 countries3. A subsidiary of the Crédit Agricole group and listed on the Paris stock exchange, Amundi currently manages approximately $1.904 trillion of assets3.
Amundi, a Trusted Partner, working every day in the interest of our clients and society
www.amundi.com/us
Follow us on linkedin.com/company/amundi-us/ and twitter.com/amundi_us.
1Source: IPE "Top 500 Asset Managers" published in June 2022, based on assets under management as of 12/31/2021
2Boston, Dublin, London, Milan, Paris, and Tokyo
3 Amundi data as of 12/31/22